Hello Everyone,
Today is Photo Story Friday. Click on the picture to get the details. Also, click on
Cecily
or
MamaGeek's
link and you can see other bloggers who are participating today.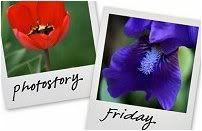 Hosted by Cecily and MamaGeek


Today is my grandfather's birthday. He would have been 87. He passed away on July 6, 1999. It'll be ten years this year and I find it hard to believe that he has been gone that long. I love all of the pictures of my grandfather where he is smiling.

He was probably the most important and influentual man in my life. He fought in World War 2 leaving his wife and children. Everyone knows that those were hard times. We were fortunate that my grandfather, Pap, made it home. Here is a picture of him with his troop.

You can't see him but he is in the middle towards the back. I remember some of his stories and I am so proud of him. It makes me think about all the families whose husbands, fathers and sons are in foreign lands today. The families who are relocating so that they can be near their husbands and dads. The families that leave their home state and families to follow their loved one. They all are sacrificing for each and everyone of us.




This is a picture of my parents with my grandparents. When we were on dialysis I got to visit with him alot. He had the shift before me but sometimes he wouldn't be done and we got machines next to each other. We would just talk and have time together. He always called us girls by our names followed by baby. Valerie baby. lol I love and miss him so much.


Happy Birthday Pap!!