Hello Everyone,
Today is Photo Story Friday don't forget to click on
Cecily
or
MamaGeek's
link to see more blogs participating.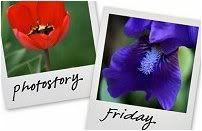 Hosted by Cecily and MamaGeek
Today my photo is one of my daughter and nephew about 17 years ago.
Let's go way back in time:




The American West
A time when after wrestling cattle, breaking broncos and riding the plains a cowboy just wanted to stroll into the local saloon to wet his whistle. He was in no mood for a barefooted flirty big buxom saloon girl to whittle him out of his hard earned cash. As for the saloon girl, another night of entertaining dirty, dusty and smelly cowboys for what? Pennies I tell you!