Hello Everyone,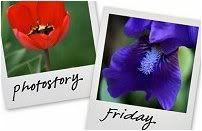 Hosted by Cecily and MamaGeek



It's Friday!!!! Yes!! I am so glad it is Friday I am ready for the weekend!! So as you know on Friday's I do Photo Story Friday. lol How many Friday's have I typed already. lol Ok please click on the above picture or Cecily and MamaGeek's links to participate or to see other participates.



WHAT?!
Oh yeah like you've never had a bad hair day! Puhleese!



Have a blessed day!