Hello Everyone,

Go check out Megan at Hold It Up To The Light's Times Are Tight Giveaway.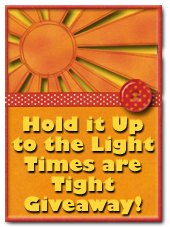 This is why she is having this giveaway:


You probably have friends who have lost their jobs,
or others who can't find one.

It is impossible to turn on the TV, read the paper, or surf the web
without hearing about what a bad state our economy is in.
We are all cutting back in one way or another, and
many of us are trying to find ways to make a little extra money.

I have friends who have small businesses.
Some of them have been around for a while,
and some of them are brand new.

I want to help them, and that's what these
giveaways are all about!

Each month or so, I will highlight a friend's business.
It will give them a chance to show off their stuff

Really a neat idea huh? This is actually her 2nd giveaway of this kind. This time she has some really neat ear rings to giveaway. Hey I love ear rings!!



Have a blessed day!