Hello Everyone,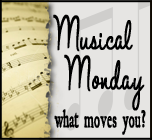 Let's get some Musical Monday business out of the way before I post my song and what it means to me. Jori and Diane are having a giveaway for the month of May! With your help I can get extra entries for this giveaway. The best part is you can win this giveaway too and have your friends help you get extra entries. Here's an exert from Jori's blog:


The obvious prize . . . MUSIC!
We are EACH giving away (that's right, two chances to win!) your choice:
$15 Amazon Gift Card
or
$15 iTunes Gift Card
And it's easy to get yourself entered. All you have to do is play! Each and every post you contribute to Jori and Diane's Musical Monday for the entire month of May enters you to win! And! Bonus!! For each new friend you bring to the party you'll get FIVE extra entries!
Isn't that neat even if you don't like music (as if) it's still a fun post to do. Now first I have to invite you to play. So here is your invitation:




Now isn't that the best invitation you've ever gotten? Now a recap. Click over to Jori's or Diane's blog, post your own entry by participating in Musical Monday and mention in your post that I invited you. Then in your own post invite all of your friends! See it's that easy.

Ok back to my Musical Monday.

My husband and I are very close and still very much in love with each other. We are however very different too. I mean he is all guitar playing Rock n Roll while I am, well a little more like Soft Rock, Country and Christian. I like some of his music and he likes some of mine. We have some favorite groups together like Black Sabbath, Aerosmith and Alabama.

I have posted previously that I have only been seeing him about 2 - 4 hours a week the last couple of months. I am missing my husband. This is a song that is all about how we feel about each other. I know I have had several Musical Mondays on a few of "our songs" but this is one of them too. In fact Alabama has several of our songs. I hope you enjoy listening to Alabama's "There's No Way".



I couldn't embed the video by Alabama but here is a link if you want to view it http://www.youtube.com/watch?v=Bl9lF-JJOgU. Until next time


Have a blessed day!