Hello Everyone,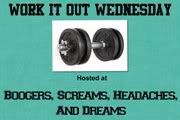 So Sherrie over at Boogers, Screams, Headaches and Dreams is doing a Work It Out Wednesday meme. Since my doctor told me I could go back to walking this past week; I thought I would start it this week. I said I

thought

I would start it this week.

I did try. But you see my lazy tired butt only did it for one day. But you know it was a holiday weekend. I mean, Saturday I was going to but laying around in my pj's got in the way. Then on Sunday I definitely wanted to but well, laying around in my pj's got in the way. So on Monday I thought ok I will do it today. And I did. Well, I mean I did look at my treadmill. Then I pulled it out. I then plugged it in. Then I proceeded to get my water and change out of my pj's into my workout outfit. But then . . . well it didn't happen.

So yesterday I tried again and I got in 30 minutes. Yay!!!! I actually can't do weight training for another couple of weeks, my weakness and dizziness is still pretty bad. But when I do I will definitely let you know.

On the good news side I have lost 40 lbs in the last 1 1/2 years. And this last couple of months I have lost another 10. So I am good with losing weight. It helped that my husband was out of town because I wasn't cooking dinner. Just had a big breakfast and a big lunch and really maybe a sandwich at night. This week I have seen an additional 2 lbs dropped just from laying around in my pj's all day. lol So that is my first Work It Out Wednesday!

My daughter and her family came back from vacation and I went to see them yesterday. I missed them so bad. They had a great trip to Gatlinburg and of course she brought us back presents. I love getting cookbooks, recipes etc. etc. Every time she goes somewhere she brings me back a cookbook. This time she brought me back 2. I just love them. I also love the fact that they are back home! Until next time

Have a blessed day!