Hello Everyone,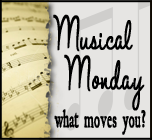 Today is Musical Monday and the theme is first concert. I had to really think about this. I remember that my first concert was suppose to be Boston but I had an asthma attack and didn't get to go. After that was Rod!! It was his 'Blondes Have More Fun' tour. Loved it!!! Love him!!!
Me and my sister went to the concert. We had good seats on the main floor!! So good that we were first up against the stage and I could touch the end of his shoe when he got close to the end of the stage!!! Woohooo!!!! We left with a t-shirt and a concert book. We were in LOVE!!!
So for your musical delight I give you 'Do Ya Think I'm Sexy?'.
I remember when he song this song he was dressed in tight black leather pants. Just like the album cover:


Hop over to Jori's or Diane's to see other Musical Monday posts or to join in the fun!! Until next time