Hello Everyone,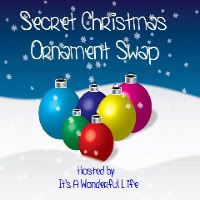 Today is the day!! I have been wanting to have a Christmas Ornament Swap for a while now. Not only a swap but a secret swap!! Do y0u want to join in on the fun? Great!! I intend for this to be tons of fun and also to make a few new friends. Here are the rules:
1. Grab the button on the left and put it on your blog.

2. You have to spend at least $20 before shipping!! You can spend more if you want, but the least you can spend is $20. It can be just one ornament or several if that's what you want to do. It is your prerogative if you want to spend more but please don't be upset if your partner doesn't.
3. It is a 'secret' swap so no reveal until you send your ornament. Please include your blog address and a card. To make it more fun don't forget to gift wrap the ornament.
4. Once you get your swap partners name and her blog address give her a visit and get to know her a little.
5. Deadline to mail your ornament is Thanksgiving, November 26th. On the outside of the package if you don't want to reveal your name until your partner opens her card, then just write Secret Ornament Swap with your mailing address. It would be good to have delivery comfirmation also. It costs between $.70 - $2.00.
6. Please do not sign up if you are not going to participate. It is not fair for someone to be left out if you have decided you don't want to participate. Please contact me if you have a problem and have to withdraw. Please do this before the deadline (November 26th).
7. Once you have your ornament blog about it!! I will have a link up so we can all visit each other and see the great ornaments we got!
So that's it!! This swap is open to anyone! Deadline for participating in the swap is October 20, 2009. I will get your partner info to you by the 25th!
How do you join? Send me an email at valwonderfullife@aol.com or you can click my email button on the sidebar. I will need the following information in your email.
Your name and address
Your blog name and address
Favorite color/Or color you decorate in
Do you have a holiday theme? Or collect anything? (i.e. snowmen, Santa's, Willow Tree, etc.)
Anything you don't want/don't like. (i.e. no glass ornaments, no Santa's, etc.)
Also are you okay with shipping overseas? (please be sure to answer)
Let's have some fun with this!! Don't forget to blog about it and tell your friends – the more the merrier!! Until next time
Have a blessed day!!