Hello Everyone,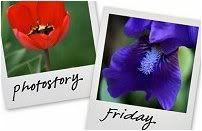 Hosted by Cecily and MamaGeek
It's Photo Story Friday and I was going to put up a couple of pictures of my own family. Then on the way home I seen my neighbors decorations and thought I'd do that. He decorates his house every year and two of his neighbors do the same. He broadcasts music over a radio station that are insync with his lights. So here is his link
http://www.fultondalelights.com/
and I hope all of you enjoy it. I am posting a few pictures that he has on his website. He also has videos but none of this years display yet. Hop over and check him out.
I still HAVE NOT put my tree up yet but I am definately doing it Saturday. Late this year, I know. Tara @
kidz
have a few people that need cheering up this Christmas. Hop over to her blog read their stories and if you can send her an email to get the addresses of those whose holiday you can brighten.
Christ is 'The Reason' for the Christ-mas Season!
Have a blessed day!