Hello Everyone,

Well today is Photo Story Friday it's hosted by Cecily and MamaGeek. This is my very first one so I hope you enjoy it. Click the link below to get all the details or to look at other bloggers Photo Story Friday.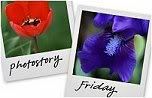 Hosted by Cecily and MamaGeek

Monday we took Ray to visit Santa. We walked around the Galleria and found him then we waited in (thankfully) a little line. While we were waiting Ray was pointing at all the Christmas decorations and saying "ook". Every second he'd point at something he was sooo cute. The first thing we seen was the Merry-Go-Round. Every year the staff at the Galleria change all the horses to reindeer. Here's a picture of it:


So we walk on pass the Merry-Go-Round while Ray is pointing and looking at everything. We had to stop every few feet with him walking because he kept stopping to look at the tile. If you notice in this picture the tile is mostly white. Well the brown tiles are a little shinier than the white and he had to stop and look and step on just about every brown tile.


"Ok Mom there's one."


"Almost there mom."
"Here I go."

"Let me just stand here a minute and enjoy my accomplishment."
So we get to Santa and he doesn't cry or anything his momma puts him on his lap and he was just staring.
"Okay, what are we doing now?"


"And who are you?"


"Why have you left me in this old man's lap?"
I don't have the final picture but it is cute. I know, I know how can I not have the final picture? I'll try to get mine and post it when I get it.

After we got his picture taken with Santa we walked to the food court and had some lunch. Then finally he got to ride his very first Merry-Go-Round.


Started out good!


"Can you see Grammy?"


"Ok, I didn't like that."


"Uh, Mom, I don't know about this."


"I think I might want to get off."


"Can I please get off now?"
He liked it at first but towards the end he was trying to get off of the reindeer. But he did laugh a little while he was on it. lol

It was a lot of fun watching him and seeing him with Santa and on the Merry-Go-Round. But this is the view I seen most of the day.
"Pick me up Duck."


Now if that's not worth all the gold in the world I don't know what is. He wanted his Grammy/Duck to pick him up and hold him. He and I walked around for a little while by ourselves and he made me laugh so much in that little walk. He is just so great to be with. Can you tell how much I love this little man?

Have a blessed day!