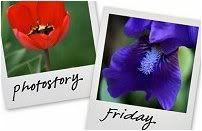 Hosted by Cecily and MamaGeek
Oh my where did he get teeth like that?

The Cheshire Cat?
Is he an Osmond?
Mr. Potato Head?
If you picked Mr. Potato Head you are correct!
The above picture of Mr. Potato Head was a birthday present and he loves playing with all the parts.
Hope your Friday goes fast.