Hello Everyone,
Yes!! It is finally Friday. I don't know about all of you but this has seemed like a very loooonnnnggg week to me. Glad it is almost the weekend!! So here is my Photo Story Friday for today. Don't forget to click on Cecily's or MamaGeek's link to see other Photo Story Friday participates.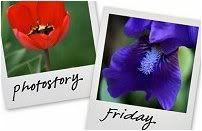 Four middle aged friends Larry, Dave, Joe and Jeremy

Lookin' for adventure
And whatever comes their way
Yeah they are gonna make it happen
Take the world in a love embrace
Fire all of their guns at once
And explode into space


Ah come on, give me a kiss for the road.