Hello Everyone,

Today I am doing both Photo Story Friday and Flashback Friday combined. I enjoy doing both of them and since they are on the same day I decided I would. I hope the hosting sites don't mind.






I am doing senior pictures today. First up is my daughter. She graduated in 2003. Isn't she lovely?


Now it's my turn. This is my senior picture I graduated in 1982.
Now you have heard me mention that my husband reads my blog on weekends. Well if you hear of a man murdering his wife from Alabama this weekend you will know that it was me. lol
This is my husband's senior picture. He graduated in 1976.
He is going to KILL me!! He hated his hair back then but when I met him his hair was down to his waist and he had the prettiest spiral curls I have ever seen. Ladies I have paid big bucks to get my hair to look like my husbands.
It is absolutely gorgeous now.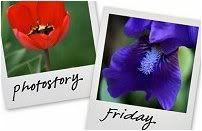 Hosted by Cecily and MamaGeek
So there you have my Photo Story Friday and Flashback Friday. You need to hop over to
MamaGeek's
and
Cecily's
blog to see other Photo Story Friday's and
Tara's
blog for more Flashback Friday's. Hey why not join the fun?
I hope everyone has a great Easter. Remember it's about more than the eggs and the bunny!
Have a blessed day!