Hello Everyone,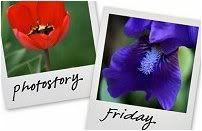 Hosted by Cecily and MamaGeek


Well it has been a while since I have participated in Photo Story Friday! I've missed doing it. Today I want to call your attention to an Easter picture I posted, well I posted it after Easter.

Do you see his Easter basket? It's a football. For quite sometime now Ray has been pushing in the handle of his football Easter basket and wearing it.




We can't ever get a picture of him wearing it but finally the other day my daughter managed to sneak one. How in the world was she able to sneak it? Well as you can see he was totally engrossed in eating Cheerios. lol Food is the only thing that keeps him occupied enough to where you can sneak up on him. lol

Hop over to Cecily's and MamaGeek's blogs to see other participates' Photo Story Friday!



Have a blessed day!