Hello Everyone,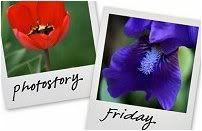 Hosted by Cecily and MamaGeek


I always enjoy Photostory Friday! I was planning on doing a totally different picture today. But last night we went out to eat dinner and to celebrate my nieces 15th birthday. Happy Birthday Larissa!!!

We all had a great time and after dinner they brought out my niece's birthday cupcake cake. lol I guess that's the best way to describe it. lol The cupcakes were really good. So I thought I would share with you my 18 month old grandson eating dinner and a cupcake. Hope you enjoy it as much as he we did.



He looked at this for a little while before he even touched it.
And now the art of eating a cupcake (in no particular order):