Hello Everyone,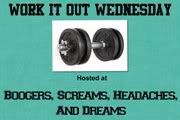 Well I did a lot better this week. I walked for half an hour three days and rode my bike once! Hey that's a lot for me; seeing that I am still feeling very nauseous from my new meds and still feeling very weak.

Maybe next week I will be able to start in with the weights. I have several of The Firm DVD's and 2 lb weights. Now I know 2 lb weights aren't much but hey you have to start somewhere!

I have lost a couple more pounds and my pants are really loose on me. My hubs calls my pants saggy baggies lol. I'll be late in posting comments as my day is going to be really busy tomorrow so it'll probably be tomorrow night before I get around to commenting to the other participates.

Well that's it for my Work It Out Wednesday hop over to Sherrie's blog and encourage other participates or join in on the sweat fun. Until next time


Have a blessed day!